"Keep a notebook. Travel with it, eat with it, sleep with it." - Jack London
Most great minds carried pocket notebooks. Do you?
It's a tradition that seems to have died in the present day, although the importance has not. Juggling through the pocket routine of "Wallet.. watch... keys... phone?", a notebook usually doesn't make the list. Maybe it's because we believe our phone has made the notebook obsolete... but has it really? Or maybe it's just because there's no room in our over-stuffed pockets and over-stuffed minds for an additional incumbrance? Either way, the Legacy Wallet has solved this conundrum for us and we think it might for others too.
Having a dedicated pocket for the newest and smallest all-weather notebook offered by Rite in the Rain® along with the compact, Pokka Pen, provides the capability to jot down a thought or pass on an important note anytime, anywhere. On top of the functional aspect, we wanted to honor the concept of leaving a legacy.
Are we leaving Campsite Earth better than we found it?
We made this with vintage "Duck Hunter Camo" fabric as a reminder of the legends that came before us, and the finest grade leather ready for years of breaking in and passing down to the legends after us.
Designed for the independently minded minimalist that wants to maximize function and form over financial dependency and consciously crafted in the USA, to balance timeless design with multi-generational rugged construction.
FEATURES
22 different handcrafted steps by Togethermade
3 top-loading pockets
Fits up to 6 cards (IDs, Credit Cards, Grim Cards, Burnable Business Cards) + 1 On-The-Go Notebook
Comes with 3 Rite in the Rain® On-The-Go Notebooks in Blaze Orange (Made in the USA)
Pokka X Fisher Space Pen with the premium pressurized cartridge in Blaze Orange (Made in the USA)
Every wallet has a unique face fabric made of 1000D Cordura® Duck Hunter Camo pattern
Wickett & Craig English Bridle Leather
Fits front or back pocket
Customer Reviews
Write a Review
Ask a Question
11/19/2021
Anonymous

United States
Great wallet
The Legacy Wallet makes a great gift. Looks great and functional. A great gentleman's wallet.
07/07/2021
Michael C.

United States
06/29/2021
Marz W.

United States
The best wallet!
Love my new Legacy wallet. The craftsmanship is superb, it's everything I need and nothing I don't. I replaced the pen with a Tuff Writer copper pen (still use the orange pen just not in the wallet), and I tuck just the last page of the notebook in so the pad is outside the wallet. That way I don't have to pull the notebook out to write in it, and I have space for my Bushcraft Kelso signature Grim card. It's the perfect wallet! Replaced the one I handmade for myself 20 years ago.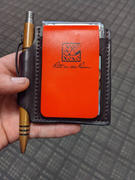 06/25/2021
Anonymous

United States
Awesome!
This Wallet is great quality, and great looking. Leather is thick and should stand up to years of carry. I like having the notebook and the pen with me all the time. It's going to take some break in because it's a tight fit with everything I have in it, but it will be well worth it.
06/25/2021
Anonymous

United States
Favorite wallet ever!
I have had the same wallet for the last 10 years (it's a small Coach (yes the fancy brand one, it was a gift)) wallet. I am very picky with my wallets and have tried so many and gotten rid of every single one in the last 10 years. Then this one came along, took a chance and am never going back! It looks amazing, feels amazing, made out of quality material, and I fully expect it to last for many years! They sold out wicked fast too glad I got mine before they ran out! Hope you guys do more stuff like this wallet in the future.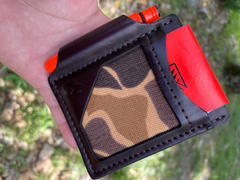 06/14/2021
Jonathan

United States
Feels solid, but won't fit 8 cards.
With six cards and nothing else, it takes a lot of effort to force cards into the wallet, and just as much to pull them out. Adding the notebook, and the wallet can comfortably (tight enough not to fall out, but but easy enough to pull out with minimal force) hold two, maybe three cards.
Hi Jonathan, Thank you so much for the feedback! We are always striving to improve our products and customer experience and we take customer feedback very seriously. Sorry to hear that the wallet didn't fit as many cards as you expected! We would like to offer to send you a return label to send back the wallet for a refund if you are not fully satisfied. Thanks again!
06/11/2021
Anonymous

United States
Great wallet
The Legacy Wallet makes a great gift. Solid construction and looks great. A great gentleman's wallet.