THE ORIGINAL 6 SECRET POCKET HAT
TOUGH, LIGHT, CLEVER, AND COMPLETELY INCONSPICUOUS.
On your head, the Cache Cap™ looks like your everyday baseball cap. What you don't see, is that on the inside this hat has 6, count 'em, SIX HIDDEN POCKETS. The 6 pockets include 3 in the main dome of the hat, 1 hook and loop closure located in the middle of the brim, and 2 narrow slot pockets also on the brim. These allow you to store a multitude of items in your cap. Of course, we suggest emergency items and have designed them to accommodate tools from both of our Cache Kits™.
NEW INSIDE FEATURES
Available on Black, Blue, and Tan Cache Caps™
Hook & Loop closure on dome pockets
Evaporative cooling high-vis orange mesh
Reflective material forming an X for signaling/marking
Anti-glare black underbill
FEATURES OF ALL CACHE CAPS™
Low Profile Crown
Adjustable sizing, no-snag hook & loop
One size fits most
Buttonless top
Keep-your-cool cotton sweatband
This is a PATENTED design from Wazoo Survival Gear. 
Customer Reviews
Write a Review
Ask a Question
A good hat and a good cache site
As long as the thing you are hiding is thin, you'll be able to hide it, and it looks like a normal baseball cap
01/13/2022
Patrick S.

United States
An excellent cap with very useful features
I just got my Patch Cache Cap and I really like it. The idea of having various pockets to store items is pretty cool and useful. So far I filled mine with a small knife, a military P-38 can opener tool, band aids, Ibuprofen, antiseptic gel packs and waterproof matches. I still have room to add a few other items. It is the kind of cap James Bond would probably wear to MI'6's annual company picnic! I also want to commend the company for their excellent customer service. I initially got a hat in the wrong color, but they quickly replaced it and also provided a free return shipping label for the other hat. Very nice. Thank you.
01/02/2022
Kim G.

United States
The perfect gift for Mr. Prepared
Bought this cap for my father-in-law, who is Mr.-Prepared-For-Anything-You-Can-Imagine. He loved all the pockets and was already talking about what he would put in each one before he left. Score one for Wazoo!
01/02/2022
Linda C.

United States
Cache Cap
Awesome cap! My son loved it.
01/01/2022
Matt P.

United States
Better than Version 1 (I hope).
I wrote a glowing review of the first version, but after I lived with it for a while, I had a few complaints. I found that I had to be very careful when putting the cap on and off, or stuff would fall out. I already see that this has been improved by the addition of Velcro to the 3 large pockets. The other complaint was more unusual. I walk at a vigorous pace, so I sweat a little. After a month or so, salt deposits had formed around the rim, so I decided to give it a hand-washing. To my surprise, the area where the salt had been faded more than the rest of the cap. It looks like a bleach accident, and I don't sweat chlorine. I've never known cloth of any kind to react to sweat that way. In some situations, I'm not all that hung up on the appearance of my clothes, but in those where it matters, I don't wear a raggedy-looking cap. So my first Cache Cap has effectively been retired, long before its time. My 3-star review is really for the first version. I'd have edited my review for that purchase, but the website won't let me do so. As far as the new one goes, so far so good; they have definitely made improvements, but I am a little hesitant to wear it when I anticipate perspiration. I guess that's where the old one will come into play.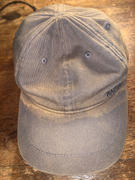 12/27/2021
Chuck R.

United States
Stylish with 007 Features!
I love the cap. I loaded mine with Survival & Escape gadgets! Very Cool!
12/27/2021
Ricardo P.

United States
Nice cap, looks a whole lot better than I thought it would
12/27/2021
john o.

United States
Wazoo Cap
Great comfortable hat with places to put some stuff you want to keep with you but out of your pockets. Lots of places to put some concealable items. Love it!