Designed to couple our love for the properties of ceramic with our goal of creating easy everyday carry tools.
Made from ceramic, brass, and plastic with a stainless steel keychain and an EPDM O-Ring. It is 100% corrosion-free and designed for use in any environment. Serves as a great addition to an EDC keychain, but it can also be stashed in just about any little clothing crevice; hat, money belt, or even boots.
CUTTING: Remove the securing O-Ring, unfold the blade to cut through cardboard, leather, fabric, cord, or meat. The long slender blade gives a great usable length for precision slicing and will hold an edge better than steel (assuming you don't abuse it).
SCRAPER: This product was designed so that when folded closed the exposed pinch-point becomes the ultimate firesteel scraper. We pioneered the use of ceramic in this type of application and you'll never find a better material for the job. You'll be replacing any standard-issue firesteel scraper in a flash. It shaves magnesium like a dream and rains down fiery terror onto your tinder bundle.
SIZE: The smallest EDC folder money can buy, but slow down there Paul Bunyan! It's not meant for splitting wood, but it'll get the majority of tasks done, and done well. It packs a huge punch for a tiny accessory.
WARNING!
Extremely Sharp! Not intended for children. Ceramic provides many advantages over metal knives, but it has to be treated differently in respect to its unique properties. Excessive pressure or sidways torqueing can cause damage to the edge or snap the rigid blade.
Customer Reviews
Write a Review
Ask a Question
12/30/2020
Anonymous
United States
Great product!great team!Great customer service!
Novice, intermediate, advanced, dare to call yourself an expert? However you see yourself, If you're looking for the right minimalist tool to manage throwing sparks this is a good friend to have in your whatever. I'm leaving this review because I enjoy the products and recently have been proven by customer service that this company deserves to succeed.
12/04/2020
Anonymous
United States
Small and handy
Handy little knife that conceals well in the Cache Cap or Cache Beanie. Don't expect to perform large cutting tasks, but would be perfect for small tasks or emergency use.
11/18/2020
Anonymous
United States
Lovi it
Everybody needs a trustee little friend. This is one we can all count on. If you're somebody who understands the importance of the right tool at the right time, look no further.
11/12/2020
Anonymous
United States
Mini ceramic folder
Great EDC. Easy to carry. I put them on our Key chains.
10/26/2020
Sandra R.
United States
Incredible micro-tool
The perfect micro-knife and striker to add to my EDC. I'm always looking to improve my pack and when Nicole Apelian recommended it as a must-have item, ordering one was a no-brainer. Love it already!
10/19/2020
PW
United States
It's so tiny! Don't forget to take it out of your cap before flying!
Great tool! You literally could forget you had one.. or did I? Definitely take is out of your ***** cache gear. Btw to settle the big question on how to pronounce Cache: From the French cache, Une cache is a hiding place, no accent on the end no additional letter pronounced as is. Chché or cacher both pronounced with the É on the end. It's the verb to hide. Un cachet is a noun meaning a payment and is pronounced like the above caché or cacher. Cachet can also mean posh as in: this dude has so much cachet with his ***** cache cap and his ***** cache belt! When you whip out your ceramic folder from your ***** cache cap you have so much cachet with the operators and the preppers! Ok now for the serious stuff this company is great it's operated by real people it's a very cool American small business please support them by buying their products. I don't fish it's my gray man moral patches lol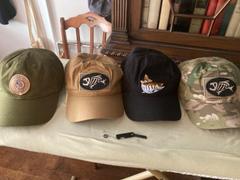 10/08/2020
Anonymous
United States
Perfect backup knife.
Perfect backup knife.
10/06/2020
Roger R.
United States
Mini Ceramic folding knife
This is a little knife I will use alot. It's very sharp, but dont try to sharpen a ceramic blade. It's very strong with ferro rod, use the back edge of the knife in the curved area not the blade edge. Strong but ceramics don't like to be twisted or bent. Fits perfect in my Patch Cache cap in the bill. Great product from *****.