15 Tool Survival Kit
The Everyday Essentials Kit is a custom-designed 15 tool survival kit, that fits in the Cache Belt™ and Cache Cap™. Most components in this kit are custom-made and cannot be found anywhere else. Every component was chosen to contain the highest quality parts while maintaining packability. The Essentials Kit is meant to be travel-friendly and leaves space in the Cache Belt™ for the addition of other gear.
Customer Reviews
Write a Review
Ask a Question
06/13/2021
Prepping W.

United States
Lots of room!
Pretty amazing that the cap can hold all the contents of the survival kit and still leave room to add a few custom items ! I use the everyday essentials kit and added a few personal touches, like some small bills rolled in plastic then hi-vis electrical tape, a mini blade, band-aids, a fresnel lens and mini chem lights.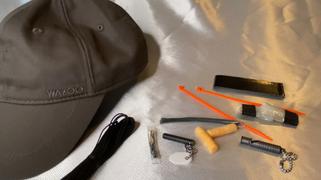 05/25/2021
Anonymous

United States
My wife is complaining I have more belts than her
Replenishing is good!
12/04/2020
Anonymous

United States
Just enough
I actually prefer this kit over the more comprehensive. Includes all of the "essentials" without being too bulky. Fits great in the Cache belt.
12/03/2020
Anonymous

United States
Greatness
Great products great group of people making items for unique and dire circumstances
09/11/2020
Todd N.

United States
Very nice kit
Everything in this kit is high quality and would come in handy in a tough situation. The only problem I had was that I bought this to go in the cache belt and the duct tape seemed a little wide for the belt to stay closed.
07/07/2020
Anonymous

United States
Everyday essentials kit
High quality kit with useful gear. Gives you piece of mind knowing that you have an insurance policy on your person at all times.
06/08/2020
Kevin R.

United States
Great, compact survival tools
Personally I love the survival tools from Wazoo. They are well made, and more importantly for my needs, compact enough to stow just about anywhere. I believe in the idea that the best survival kit is the one you always have on you ... it's great if you put together a multi-thousand dollar "go-bag" filled with the best gear, but if it's not there when you need it ... you might as well not even have bothered. These great little items fit in jacket pockets, wallets, capsules, hat bands, belts ... all manner of places that you can stash them, so that they are there when you need them. Hopefully you won't, but it gives you comfort knowing they're always there.
Cache belt, adventure kit
I would recommend this belt, very useful. Kit is also good as well. Useful items