IT MAY BE TINY, BUT IT'S TOTALLY EFFECTIVE!
The flat edge of this Ceramic Striker is the best firesteel striker you will ever use! Designed from White Zirconia Ceramic, this firesteel striker will not dull or corrode. Plus, the small hole on the ceramic allows you to run a piece of cord through it to make it into a necklace, wrist lanyard, or keychain.
Customer Reviews
Write a Review
Ask a Question
02/11/2021
Megan R.

United States
Ferro scraper
Small and convenient
02/11/2021
Megan R.

United States
Ferro scraper
Small and concealable scraper being ceramic can be used for more then just a scraper. Great job
02/09/2021
Nathan H.

United States
Effective!!
This very compact Ceramic Scraper is super effective!! It's ultra light so is easy to always have with you. Highly recommend.
02/08/2021
Bob P.

United States
Ceramic fire rod scrapper.
I have used it twice and it worked very well.
12/29/2020
Maxime L.

France
Buy One ! (or 2,3 etc etc )
Very nice also as a "emergency" sharpener !
12/29/2020
Thomas W.

United States
Ceramic Ferro Rod Scraper Works Great, just a little pricey
The Ceramic Scraper is it is the best scraper I've come across to easily get a spark. It doesn't chew up your Ferro rod similar to other scrapers and makes getting a spark almost effortless. I show this scraper and the Mini Ceramic Folder during my Essential Wilderness Survival Class and always have participants that tell me they went online and bought the scraper or the folder. These are excellent to put in a go-bag with a small Ferro rod for that unexpected emergency. I personally think they are a little pricey but are still worth buying for the go-bag or if you are initially having trouble starting a fire using a metal Ferro rod scraper.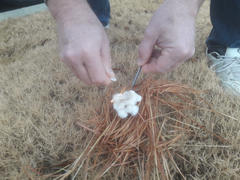 11/28/2020
Anonymous

Indonesia
Scraper
Nice little scaper, works good!!
11/04/2020
Anonymous

United States
Great EDC with additional load out
I bought a small belt and buckle and the everyday essentials kit. I then cannibalized a couple of edc wallet cards I wasn't using. It's tight but to the essentials kit I added a knife, compass, magnifying glass, micro light, can opener with screw tips, toothpick and tweezers 3 normal bandaids, 4 small bandaids, closure strips, 3 alcohol pads, 1 antibiotic cream packer, 3 packets of pain reliever, $20 bill and the trail markers that I bought afterwards. I also bought afterwards the mini signal mirror for behind the buckle and a added a medical dog tag the has a couple of needles, a file and some tweezers. I had to pack the gear twice. The first I just put stuff in and wore for a week. You don't won't hard or rigid things placed at the points of your hips. I repacked and now it's comfortable. I wear it every day. I was thinking of putting a grommet on each end. I think the belt could hold my weight, if I needed to hang from it.